Here at Clench Media, we love hearing from like-minded digital marketers. It is always a thrill to exchange ideas and hear about their experiences with different online marketing strategies.
This guest post was written by Brad Shorr, Director of Content Strategy at Straight North, a Chicago SEO services provider. With more than 25 years of sales and marketing experience, Brad has been featured in leading online publications including Forbes, Moz and American Marketing Association. Please enjoy reading this wisdom from him below and make sure to share it with all the digital marketing professionals in your network!
_________________________________________________________
Internet Marketing Lead Generation Ecosystem
An Internet marketing lead generation campaign has to function like a well-oiled machine in order to be effective, and that means treating it like one. Too many Internet marketers don't understand how all of the components of their lead generation campaigns fit together, however. The result is campaigns that don't function anywhere nearly as effective as they should. Imagine trying to re-assemble the engine of a car by guesswork — it's not only nearly impossible, but it's also liable to result in a car that's in danger of falling apart at any moment. Knowing all of the parts that go into a successful lead generation campaign and how they fit together isn't just a good idea, but a necessary one.
Here at Straight North, a leading Chicago SEO services provider, we've thoroughly researched what exactly makes lead generation campaigns successful. That means we've spent a lot of time pulling them apart and studying the individual components as well as how they all form the precision machine our clients need them to be. As a result of this research, we've determined the crucial elements that have to be part of lead generation campaigns in order to capture and convert all of the various types of website visitors. For example, social media posts that can be shared by visitors can be useful for attracting people who might not be aware they need a product or service until they see it shared by someone in their social networks. Other people may know they're in the market for something, but need case studies or testimonials to confirm their decisions.
All of these various elements are a part of what we call the ecosystem of lead generation. To help Internet marketing professionals build the most effective lead generation campaigns, we've created the following infographic to serve as a kind of blueprint to follow. Using this guide can help ensure that your campaign is built to be as effective and successful as possible.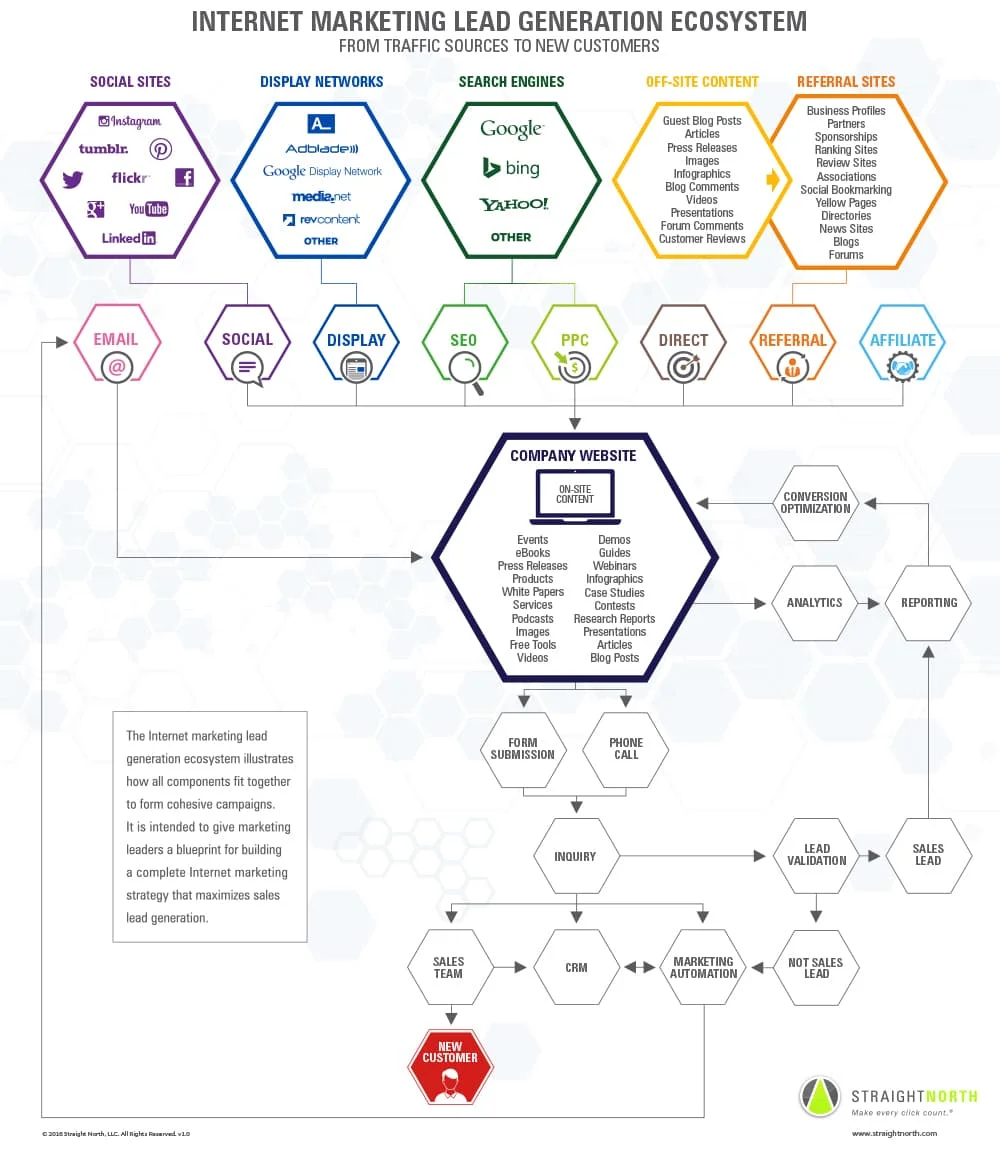 created by Straight North, a Chicago SEO services company